So my summer gig adventures are now over.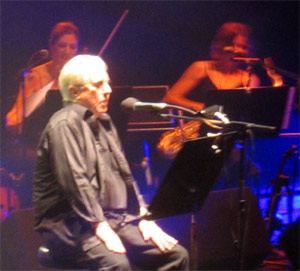 Last night was Lee Hazlewood. It was a wonderful experience to see him in person. He had a band of about 10 musicians, all filling out and just about achieving various classic sounds from throughout Lee's career. As he took to the stage, they played a nice pastiche of 13-era Lee, with funky beats and nice horns. Lee sat on a stool and told amusing stories. The material was a mix of old and new; old mostly. A particular highlight for me was 'For one moment'. He played a medley of 'hits' – 'sugartown', 'some velvet morning', 'summer wine' etc. While he was playing 'sugartown', a girl near us in the audience leapt out of her seat and did some cool gogo dancing at the front. The musicians were great; a few of them were from Stereolab and the High Llamas, and they clearly had great reverence for the material.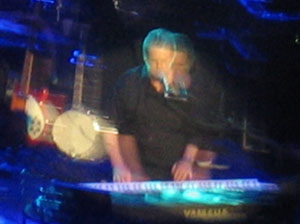 Last Wednesday I saw Brian Wilson's 'Smile' tour. I think he played for 5 nights, and this was definitely a big commercial tour, with keyrings, mugs, t-shirts and everything. The guy selling cheap bootleg t-shirts outside reminded me of trudging up to Brixton Academy in my youth, and the mass of people reminded me of the Madness 'Madstock' gig from 1992. The feeling was that the Beach Boys are so famous that lots of people just went because they heard the name and thought 'legend'. I heard quite a few people asking about the Smile album as if they imagined they could pick up a vintage pressing! None of this mattered, and the show was stunning. The musicians were outstanding, and their professionalism and devotion to getting just the right sound was even more impressive than that of Lee Hazlewood's entourage. The opening half featured Brian singing with the group gathered around him like a campfire. There was a bongo player sat on the floor. They played a delectable selection of 60s Beach Boys tracks, including 'God Only Knows', which Brian introduced slightly sarcastically as 'Paul MacCartney's favorite Beach Boys track'. Well, it's mine too; I can't help it!
After an interval, the group spread out and played the entire 'Smile' suite. The only disappointment for me was that there was no 'Til I die'. I guess my Beach Boys knowledge isn't flawless, since I had always thought that this track had been intended for Smile. Then as an encore, the band came back and roared through the radio hits of the Beach Boys – 'surfin USA', 'Barbara Ann', 'Help me Rhonda' etc. None of these songs ever did too much for me, but it was a fun occasion. At this point most of the audience was on its feet clapping away. I could see very little from my £ 35 seat (the picture above was taken at an extreme zoom setting!), but it sounded pretty amazing so I didn't mind.