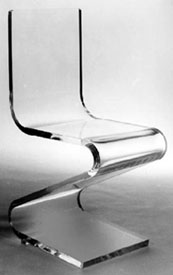 Yesterday I had one of those lucky moments I've dreamed about for a long time. Heading into work, I noticed some workmen at the front of my building were selling stuff they had cleared from an office. I saw 4 so-so chairs, for which they wanted $30. Cheap, but not that nice, I figured, walking inside. I was in the lobby, when I realized I'd just seen something I liked. I backed up, went outside, and saw two really nice plexiglas/acrylic 'z-chairs', kind of like the one above, which I quickly bought for $20. They're super-heavy, and were pretty dirty, but I managed to get them home via a car service, and they look super-cool next to our existing table, which is the same style. Get in there!
I'm amazed to find that I own a full 10 of NME's top 50 albums, featured today by Matt, and that a handful more (ie the Sparklehorse, Beta band) are on my 'to get' list. It has been some years (like about 10) since I read the NME, although I do admire their website. And no, I've hardly listened to the Spiritualized album yet either.
I've had very specific cravings for music recently. Last night it was Blossom Dearie; this morning it was Nelson Riddle's superb early 70s album 'Colors'.
Mazzy Star: 'She Hangs Brightly' (CD; Capitol; 1990)
Show Details


Incredibly, I'd never actually owned this classic album before now, and had only really ever heard it at other people's houses. I'm enjoying it tremendously right now. The first song, Halah, is very familiar to me, with Hope Sandoval's incredible voice, which I think it would be accurate to describe as 'twangy' - she kind of sings like a slow, bluesey guitar solo, bending the notes. The second track is also very familiar to me, although not in this version - 'Blue Flower' was covered by my favorites, Pale Saints back in 1992 or 3. This version is great too, but with a more metallic and slightly grungey guitar solo, which I might find objectionable if it wasn't for the great voice over the top. 'Ride it on' is something I know from, I think, one of the Melody Maker 'Gigantic' cassette compilations from the late 80s, which I keenly sent off for at the time.


I actually think the album is quite nicely varied, even though it has an image as being slightly unadventurous and samey. 'Ghost highway', for example, is very spikey and industrial sounding. Throughout, the guitar work is great, both the strummy-indie style stuff and the bluesey lead stuff. Although the slower numbers are more to my taste, it's a great album. It would probably have been worth splashing out on earlier, rather than waiting to find it used, but I guess that's just me.
The Cure: 'Disintegration' (CD; Elektra; 1989)
Show Details



Oh my word, I'm 16 again. Althought I never actually owned this record at the time, I had it on tape, and had most of the singles from it (I particularly remember 'Pictures of you', 'Lullaby').

'Pictures of You' is really spine tingling to me - a perfect distillation of 'movement'-era New Order, Cocteau Twins swirliness and The Cure melancholy. The same mood continues on 'Closedown'; in a way it's incredible that this record was made a full ten years after Joy Division's Closer. It sounds dated, but in a cool way, with the drums in particular sounding very 80s.


I was actually never a huge Cure fan, but have often been around people who are. To date, the only things I've really ever gotten into were this album, kiss me kiss me kiss me, and assorted individual songs (that punky one about being in the subway, inbetween days etc).

But I'm happy to say this album still does it for me.