I have two current compilation/music-gathering projects:
Compile a fun 'German' CD, with as much spoken word as possible. My parents are learning the language, and their birthday is coming up. And besides, I want further excuse to listen to the Hildegard Knef box set, and my 'Nymphomania', 'Pop Shopping 2′ CDs.
Gather a vast number of cool songs for the wedding of my friends Edmund and Jenny. I have a handful of things together, but am on the lookout for new ideas. The progression will be a) older, west coast jazz, b) mid 60s jazz-pop with a lot of scat vocals, and c) funky late 60s pop and soundtracks. But it's funny – I guess because it's a happy occasion I have to steer clear of anything with miserable lyrics.
If anyone has any favorites which might fit into either category, please recommend them.
Oh, and the show went very well on Saturday. Here is a picture: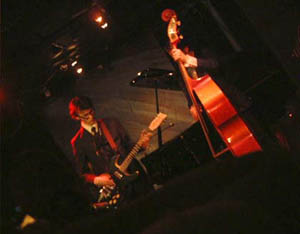 Compilation: 'Nymphomania' (CD; Sexy Hexy; 1967-1973)
Show Details


A bootleg compilation of 'sexy' european tracks, the first volume of this series is really superb, and introduced me to tracks I would probably never have heard otherwise.


The CD is chock full of quirky vocal tracks, sleazy, funky organ-laden instrumentals (many, like 'Claudine 69', with porno noises over the top), and even a wonderful soundtrack bossa nova with wordless vocals.


Standout tracks for me include the aforementioned bossa (Juliette LeBlanc's 'theme from Nights of Sin'), Klaus and Uschi's 'Young Stud' (which was sampled by English band Bentley Rhythm Ace - the track that goes 'I luuuuve it!'). The Monaco Danceband's 'Snake in the grass' is also incredible - a jaunty number with flute and ludicrous vocals that never fails to raise a smile, while orchester Lou Castell's 'Miniskirt' (not the esquivel track) is a perfect sounding late 60s blues-funk instrumental, with great percussive piano, watery guitar sounds, and cool horns.


The whole disc is tremendously fun, and recalls a night at the superb 'Vampyros Lesbos' club night in NYC, which was put together by the guy who compiled this disc, DJ Franco.
Nico Gomez and his Afro Percussion Inc.: 'Ritual' (CD; P-VINE; 1971)
Show Details


This group is apparently essentially the same group as the Chakachas, well known for their track 'Jungle fever', which was used to great effect in the movie 'Boogie Nights'. Although clearly very funk-influenced, they sound authentically South American to me, so it's interesting to note that they were apparently a Belgian group.

Well, the wait is finally over, and I own my very own copy of this album. To say my appetite for it was whetted by the tracks 'Ritual' and 'Baila Chibiquiban' would be an understatement. Both tracks are so entirely perfect and wonderful, with such a great blend of sounds, that they really changed my musical world.


The first thing I noticed after splashing down $25 for this CD is its length. It's a standard Japanese reissue - in that you get just the original LP, not 2 on 1, and no bonus tracks. You do however get excellent sound quality and nice faithful cover art reproductions (front and back). I had wanted to get the vinyl (I bought this at Dusty Groove), but it sold out instantly.


There are ten short tracks, including the aforementioned "dancefloor monster" tracks 'Baila Chibiquan' and 'Rio'. Both are a tempestuous, compelling mix of electric guitars, shouting, frenetic, tribal percussion. Another track in a similar vein that has also been compiled (on the 'Brasilian Beats' compilation) is 'Lupita'. This is one of two Perez Prado interpretations on this LP. Being a big Prado fan, I'm happy to see these on here, and although to me, 'Lupita' doesn't quite match the other two dancey tracks, it's great fun nevertheless.


As for the rest of the album, I'll have to give it some time to sink in. It does actually seem quite varied. The first track, 'Caballo Negro' is a fierce, bare instrumental, with some cool organ, repetetive bass, and some weird shouting - at one point when they shout 'Caballo', it sounds like 'Howareyou'. It doesn't have any harmonic variation, but the instrumental blend and style are very cool.


'Naci Para Bailar' is longer. The organ, wah wah and echoey vocals give it a very cool late 60s rock feel, in spite of the bongos and Latin instrumentation. 'Cuba Libre' is another exhuberant, reasonably vocal-heavy track. The vocals get a bit too much to me in this one, but it is undeniably great party music.


'Samba de una nota so' is an unexpected treat. The group treats us to a beautiful laid back version, in which Bacharach's 'this guy's in love' is reprised in the introduction. The melody is delicately played out by flutes, and the gentle bossa backing is superb. It's not quite as overwrought as the wonderful version on Eumir Deodato's 'Intuil Passagem' album, but is great in a different way.


'Baila Chibiquiban' probably needs no further elaboration. I reviewed it, with a sound sample, here. Next up is a pretty freaky version of 'El condor pasa'. Although the introduction is cool, at this point I feel I could do without this track. This is followed by the aforementioned 'Lupita'.


The superbly named 'Pa! Pa! Pa! Pa!' is really very cool, a laid back number which might have been better named 'Ba Ba Ba Ba' - in that the vocals are actually nice gentle easy listening style. The insanely brilliant 'Ritual' is next, with great percussion, frenetic organ and electric guitar work, and wailing brass.


The album closes with 'Eso es el amor', a slower but extremely groovy track with male and female latin vocals that ping pong between the left and right channels.


Getting an album after so much anticipation (a couple of years for me, since I first heard 'ritual') is odd: it can never quite live up to expectations. However, this one almost does. There are many other great tracks aside from the ones I knew before. It will be hard for me to get out of the habit of searching for the record all the time though!